The Art Of Pho
by Julian Hanshaw
Sometimes the debate is about terminology (graphic novel or comic), sometimes it's about whether it should be regarded alongside traditional written literature; increasingly the debate for me is about what the most effective use of the graphic form is or indeed how to classify some of its more genre-defying incarnations recently. Winner of the
Observer/Cape Graphic Short Story Prize 2008
for Sand Dunes and Sonic Booms, Julian Hanshaw's first full length piece is hard to classify. Perhaps the best way to approach it would be to avoid the temptation to attach a label but the only reason that I raise all this is because something didn't quite click with this book and I think it has something to do with that identity confusion.
A character called 'Little Blue' is dropped off in the middle of nowhere by a man in a red car. He's a funny looking chap, a bit like a cross between a dog and a robot (but walking on two legs - not like Doctor who's K-9. Oh, it's hard to describe, just look below). He's walked to a post and told to count to five hundred. When he opens his eyes he has no one but a large cow for company, so he waits. And waits, and waits and as he does so we see a city build up around him. After causing an accident in Ho Chi Minh City that wrecks a food stand he offers to man one himself in order to pay the owner back. This is how Little Blue is introduced to Vietnam's national dish - Pho.
Pho is a noodle soup and, as Little Blue discovers, each pho stand in the city is slightly different with its own unique taste. Blue throws himself into an appreciation of the art of making pho and it isn't long before he has some loyal customers and a flourishing stand. As well as a narrative the book offers recipes for the various kinds of pho and the different ingredients used. Hanshaw clearly has a great love for the food and whilst he has admitted that he 'nicked the recipes idea from the Kurt Vonnegut novel Deadeye Dick', they certainly add something to a book that doesn't quite satisfy in the narrative stakes. The city is a confusing place and the novel has a confusing structure built very much on the chance encounters of the alien abroad (which Hanshaw once was and whom Little Blue visually represents). Sometimes this means forming an attachment to someone who doesn't reciprocate in the same way and sometimes it means misinterpreting another's friendliness. If most of your friends are other travellers then where do you find any kind of permanence, security or stability? Whilst these themes have some interest they don't make for the most rewarding reading experience.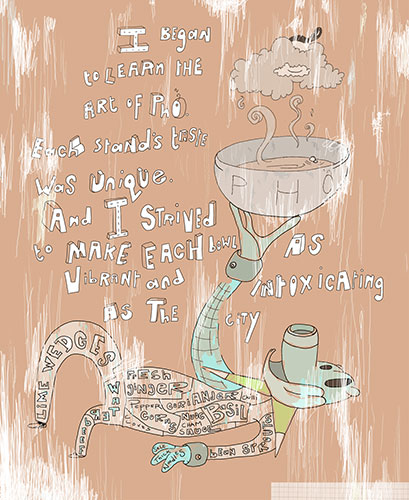 The artwork however is fantastic. Constantly interesting and innovative, the book's restless narrative is beautifully realised in pages that vary wildly and a format that never gets fixed. The eye is encouraged to wander (and wonder) over the page throwing up all sorts of lovely detail and varied technique. There's also a lot of charm about this book, Little Blue is incredibly endearing, and there is a sadness that grows as the fleeting attachments that he makes gradually fade away. This book may not be exactly sure whether it wants to be travelogue, memoir, cookbook, or fiction but it does know that the innocence of its central character is enough to keep up your interest. And if you're anything like me it'll have you desiring a nice bowl of pho before you turn the final page.