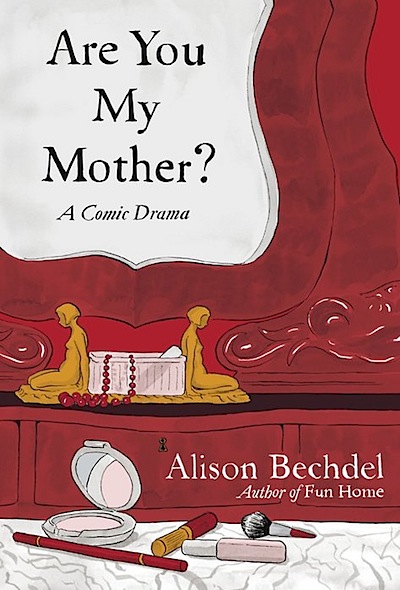 Alison Bechdel's Fun Home is often
lauded
as one of the best graphic novels of recent years. Having missed the boat first time around I was prompted to give it a read when I got wind of the publication of a new book. In Fun Home Bechdel tells the story of growing up in the family's funeral home business and focuses on her father who could be reserved and wrapped up in his creativity one moment, aggressive and cold the next. After his untimely death Bechdel discovers that he had been a closeted homosexual who had slept with men and been in trouble with the law. At the same time she deals with her own burgeoning homosexuality. The book is almost like a family scrapbook and avoids a strict linear narrative opting instead for something far more complex and satisfying. It's a fabulous book and well worth reading if you haven't already in preparation for her latest graphic memoir.
It's useful to have the context because, as you can guess from the title this new book focuses on Bechdel's mother and that also includes the impact of the publication of Fun Home on both her and Bechdel. This book also rather brilliantly is about the writing of itself, Bechdel struggles with her attempts to write the opening section, so that the opening section becomes about her struggle to write it. This meta-textuality is common now in fiction but less so in graphic work and I found it not only entertaining but also far better suited to this medium. I gave
HHhH
a hard time for this kind of authorial commentary at the beginning of this month, mainly because it was so repetitive and irritating; reading this book shortly afterwards vindicated my thoughts as it showed the same game could be played (to greater effect) in just a few clever panels.
Now, I would have to write a lengthy post to really do justice to this book's complexity. Bechdel aims to get under the skin of her relationship with her mother, in fact of all her relationships, and we follow her long conversations with her, her therapy sessions and her wide reading around the subject of the relations between parent and child. This leads her to the work of psychoanalyst
Donald Winnicot
who pioneered the theories of the true self and false self (familiar to Bechdel already through the two sides she saw in her father) and the transitional object - that item of comfort like a teddy bear or blanket with which a child (or indeed adult) can form an important bond to substitute for that with their mother. The book is fascinating for this aspect alone, providing a wonderful summary of his ideas, theories and life but also looks wider than that as Bechdel mines her past for clues to explain not only her relationship with her mother but the series of relationships she goes through with various girlfriends.
Photographs, old letters and journals, even a very specific cartoon from Dr Seuss are all used as evidence and the non-linear structure again provides an amazingly satisfying reading experience. In fact for an author who claims to have struggled with the writing and structure of the book it is a deceptively accomplished piece. The sheer volume of what she is able to include is staggering. We learn about her, her mother, her girlfriends, her writing process, Winnicot, psychoanalysis, listening, love and acceptance. And that's before we mention the artwork.
Even the pages that are made up of standard panels are varied in their appearance and design but every now and then Bechdel opens up a double page spread into something else entirely. The three pages I've reproduced here give you an idea of what I mean, and how a shift in perspective is not just a huge visual treat but an opportunity for Bechdel to do something interesting with content too. The book also has a cumulative pleasure. Not only do we sense Bechdel getting closer to some kind of understanding and resolution (and therefore something like happiness) but we too benefit from her obvious intelligence and erudition. As I worked my way through the book I felt like I was being treated on so many levels; it just works harder than most 'graphic novels' so that as I finished the last page I was glad I'm no artist myself - I'm sure I would have felt very lazy indeed. Together, both books provide an intimate look at Bechdel's intriguing family, so different to our own and yet from which we could all probably learn something. I heartily recommend both.